Post by Melissa Udoff
"Uptown Debbie Harry" served as the inspiration for Phillip Lim at the designer's 3.1 Phillip Lim Fall/Winter 2010 Collection. "This is a youthful, rebellious look that exudes a strong sense of confidence.  Energy radiates within the girls through their makeup with eyes that have a bit of a rock and roll feel," said designer Phillip Lim.  Unlike the infamous Mrs. Harry, this Debbie is not exactly the leather-clad, hard-edged girl of a Blondie video.  She has a look that's classic yet modern, polished but with a hints of rebellion.  She's definitely got an edge but it's more unexpected.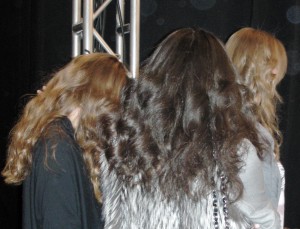 HAIR: Lead Stylist Odile Gilbert for PHYTO
Taking inspiration from this altered state of Debbie, famed hairstylist Odile Gilbert, created a look that was both refined yet Rock & Roll.  Long, voluminous waves had just enough fluff and feather to invoke the spirit of Ms. Harry.  Using all Phyto products Gilbert applied Intense Volume Mousse and created volume by blowdrying hair upside down.   She then used a curling iron to create soft waves and finished with Volume Actif Hair Spray for hold, and #7 Hydrating Cream to seal the ends.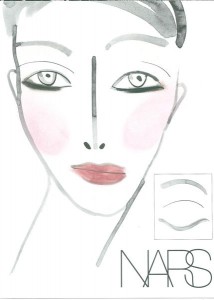 MAKEUP: Lead Stylist Lisa Butler for NARS Cosmetics
"This look has many layers," said NARS Cosmetic's lead artist Lisa Butler. "The eyes are punchy and edgy while the skin was kept healthy and glowing. The lips are a soft, sheer pink for the elegant punk-rock princess style that Phillip was looking for."  NARS Cosmetics accomplished their goal, keeping the models looking youthful and glowing with light lips but captured the edge in the eyes with a smokier look.
Here's how to get the look:
FACE
Riviera Multiple
Douceur Blush (NEW for Fall 2010); try Lovejoy or Madly Blush for a similar effect
Luxor Multiple
EYES
Abyssinia Single Eyeshadow
Nymphea Single Eyeshadow
Coconut Grove Single Eyeshadow (NEW for Fall 2010); try Bali Single Eyeshadow for a similar effect
London Eyeliner Pencil
LIPS
Bangkok Pure Matte Lipstick (NEW for Fall 2010); try Sex Machine Velvet Matte Lip Pencil for a similar effect
NAILS: Lead Stylist Angi Wingle used CND Nail Polish
Angi Wingle completed the refined rocker look on nails with a French manicure using Creamy Cameo and Gold Chrome tips.