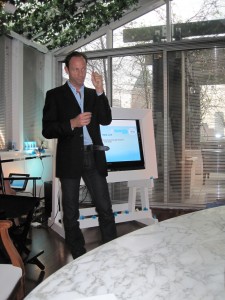 Recently, I attended an event at the Hudson Hotel, to hear Alexis de Brosses, President of Talika discuss their latest eyelash treatment, Lipocils Expert.  I wasn't too familiar with Talika prior to the event, however anything designed to extend, curl and restore color to lashes naturally, I'm interested in learning more about.
As Alexis de Brosses presented the product, I was immediately intrigued by the brands history. Their story began in 1948 at the Paris Hospitals when doctor Danielle Roches developed the first plant-based healing substance to help treat war victims with third-degree burns. In doing so she had an unexpected discovery — the miraculous growth of patients eyelashes.  This uncovering led to the development of the original cult classic Lipocil ($40), which Talika has now reformulated into an even more potent mixture to create Lipocils Expert ($55).
Talika claims that participants using this product on eyelashes as instructed for 28 days garnered 50% more curl, an increase of 50% in color (for lighter lashes), and a 36% growth in length.
So here it is, while I have decent length eyelashes, there's definitely room for growth (pun intended).  Especially after spending the weekend in DC with my sister who naturally has exceptionally long, glamorous lashes (I'm very envious). So it's on, I'm taking the challenge and using her lashes as a benchmark. With over 50 years of research, I have high hopes for this product; so bring on strong results! I'll report back in 28 days.
Price: $55/10 ml bottle. Sold exclusively at Sephora, visit talika.com for more information.
Affiliation: This product was given to Pretty Connected by a company representative.  Pretty Connected was under no obligation to write this review.