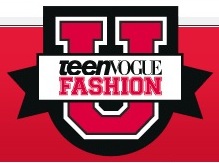 On October 22nd (tomorrow!), join Teen Vogue online for their annual TEEN VOGUE Fashion University, which serves as an educational program where the business of fashion is taught by its leaders.  Hosted live from New York City, this exclusive event provides 500 young women who aspire to a career in the fashion industry the opportunity to learn from top designers, editors and fashion entrepreneurs, including Michael Kors, Alexander Wang, Jason Wu, Peter Som,  Jack McCollough and Lazaro Hernandez of Proenza Schouler, and TEEN VOGUE's EIC Amy Astley, among others.
This year, anyone not local can experience Fashion U. online!  Viewers will have the opportunity to watch the top six seminars from the October 22nd curriculum as they happen live from the Hudson Theater, and they can be viewed on demand whenever, wherever after the live event. Registration is open now at fashionu.fora.tv for $34.95.
As someone who went to 'Fashion College' — I went to the Fashion Institute of Technology (FIT), this type of exposure is huge! At best we'd get one honorary speaker during the semester, with Teen Vogue it's a back to back line-up of industry favorites. Personally, I can't wait for Jack and Lazaro from Proenza Schouler –I'm obsessed with them. It wasn't until last year during fashion week when I got to meet and hear the duo speak of which I'm still inspired by.
Below is a peek at this year's "curriculum," and more information and a full list of seminars, and resources for aspiring fashionista's looking to break into the industry visit teenvoguefashionuniversity.com