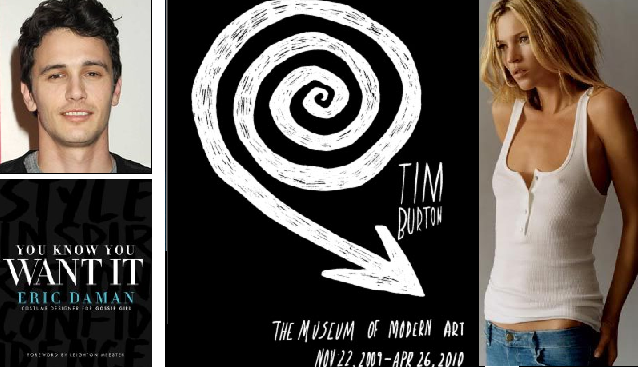 Here are some headlines that caught my attention this month:
* Francois Nars launched his latest book 15×15 (only 1500 copies!). Get it while you can.
* This weekend, Bernard and Ruth Madoff's government auction brought in over $1 Million. The proceeds will go toward reimbursing victims who lost their investments in the Madoff scam.  PETA wanted Ruth Madoff's furs to be donated to the homeless, to keep them warm this winter.
* Privately owned, highly regarded (just ask Prince Charles and First Lady Michelle Obama) fragrance brand Creed will open it's first doors in the US on Madison Avenue in December.
* Tim Burton's exhibit officially opens today (and will be up until April 26) at MoMA.  Burton's influence on film and art has had a heavy impact on the fashion industry.  WWD reported last week the Dollywood trend for Spring 2010 is no doubt attributed in part to Burton's adaptation of Alice in Wonderland premiering March 5, 2010.  I'm so excited!
* Gossip Girl's costume designer Eric Daman will launch his latest book, You Know You Want it: Style-Inspiration-Confidence, on December 15. Available on Amazon now to pre-order. You know what I want? That dress Serena wore to Rufus and Lilly's wedding. Oh and Jenny's sequence dress that she's wearing in the group shot on their website, and-I'll stop. I could play this game all day.
* James Franco joins the cast of General Hospital for 2 months. Drool!
* Kate Moss's motto, "Nothing tastes as good as skinny feels".  Well she must feel great!
* Concerns/rumors of Sammy Sosa's sudden change of skin tone being due to a skin infection or byproduct of alleged steroid use have been put to rest. The former Chicago Cubs slugger was reported saying "It's a bleaching cream that I apply before going to bed and whitens my skin some." Keep that cream away from me! Pictures HERE.
* After 25 years, Oprah is ending her run of the Oprah Winfrey show in 2011.  But considering the debut of OWN (Oprah Winfrey Network) slated to launch in 2011, perhaps a new talk show will be in the works.
* Tomorrow, November 23, Bergdorf Goodman unleashes their holiday window!  You know where to find me.