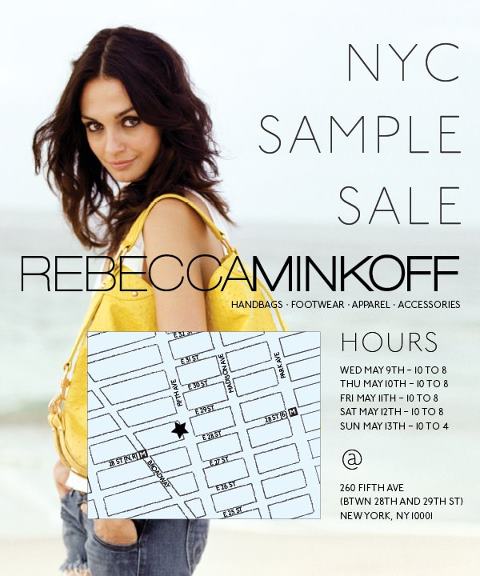 I confess, most of this is ripped off from DailyCandy.com with a few additions since I will be traveling this month and would hate for you to miss out on all of these fabulous deals!
Here's your complete NYC guide to sample sale shopping for May:
What: MCM
Why: Up to 70 percent off leather handbags, totes, clutches, and wallets.
When: Today-Thurs., 10 a.m.-6 p.m.
Where: Flatotel, 135 W. 52nd St., b/t Sixth & Seventh Aves., 5th flr., ste. b.
What: Be&D
Why: The embellished accessories brand knocks up to 70 percent off merchandise with shoes starting at $75, handbags at $125, and clutches and wallets from $40.
When: Wed. & Thurs., 9 a.m.-7 p.m.; Fri., 9 a.m.-6:30 p.m.
Where: 260 W. 36th St., b/t Seventh & Eighth Aves., 8th flr.
What: Raoul
Why: Flirty skirts, tailored pants, shorts, and printed blouses from the latest fall, spring, and cruise collections are up to 75 percent off.
When: Today-Fri., 10 a.m.-7 p.m.
Where: 601 W. 26th St., b/t Eleventh & Twelfth Aves., ste. 1745.
What: Inhabit
Why: Cashmere sweaters ($80, reg. $398), cotton dresses ($50, reg. $258), tees, and tanks for $30-$50.
When: Wed. & Thurs., 10 a.m.-6 p.m.
Where: 320 W. 37th St., b/t Eighth & Ninth Aves., 14th flr.