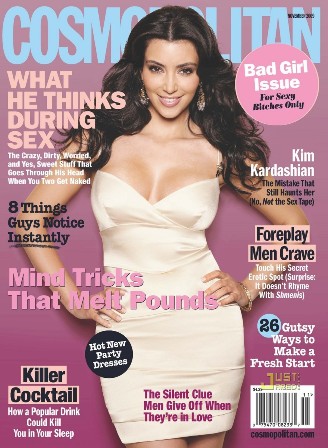 Whenever I'm asked my ethnicity and respond with 'Armenian', the usual reaction I get is 'oh, like Kim Kardashian? Do you get that a lot?'
Yes, I get that a lot—and by the way she's only half Armenian. Although clearly some type of poster child for all that is Armenia in the eyes of many Americans– so it should come as no surprise that when Cosmopolitan Magazine launches their Armenian edition in March, Kim Kardashian will grace the cover. The shocking part of course is that Cosmo is going into Armenia at all! Hrachuchi Utmazyan has been named editor of the publication, which will launch with an initial circulation of 5,000.
While it's commonly known Armenia was the first country to adopt Christianity, and the suspected landing spot of Noah's Arc, it's only in the past few years we discovered they we're also the first to decent leather shoes and house the oldest known winery. Although those are rarely the claim to fame we account for and probably to Kourtney's and Khloe's dismay, neither are they.
"The Cosmopolitan brand has been very successful around the world and we're pleased to be rolling out our 63rd edition this spring in Armenia," says president and CEO of Hearst Magazines