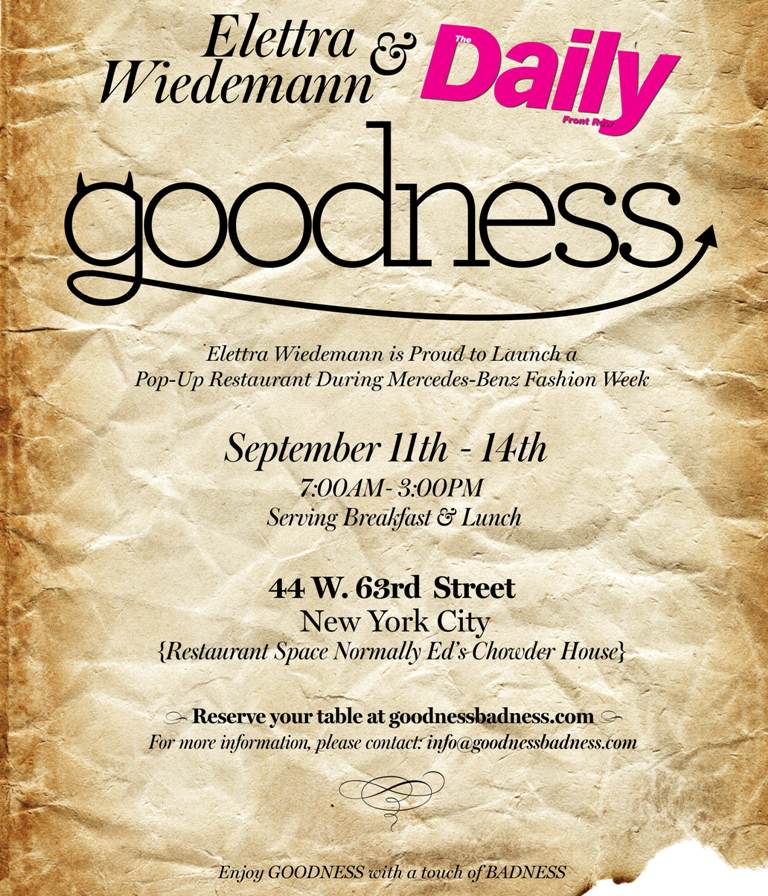 I'm very excited to announce the opening of  GOODNESS, a full service Fashion Week pop-up restaurant presented by The Daily and created by supermodel, extraordinaire, Elettra Wiedemann. I've had the pleasure of collaborating with Elettra on this project and working with someone so creative and passionate has been truly inspiring –and delicious!
From Sept 11th – 14th,  7am – 3pm, GOODNESS will be open for breakfast and lunch to provide healthy and delicious appetizers, entrees and desserts. With daily changing menus and daily changing chefs, GOODNESS will feature Nick Wilbur of The Fat Radish, Christopher Randell of Whitehall, Rob Newton of Seersucker, and Ed Brown of Ed's Chowder House. As Elettra describes it, "GOODNESS with a touch of BADNESS".
Reservations, although not required, are available through GoodnessBadness.com and GiltCity.com. And because there's no disconnecting during fashion week (and the press lounge is always full at Lincoln Center), there is complimentary internet is provided by the Orange Hat Group.
We have had a lot of exciting guests pass through the restaurant today! Find out who and join in the conversation! Tweet us at @GoodnessBadness and @orangehatgroup with the hashtag #GoodnessNYC.
For more information or to make a reservation visit www.goodnessbadness.com.
Please feel free to repost or share this invitation with fashionistas and foodies alike! We look forward to welcoming you:)