Post by Heather Wilson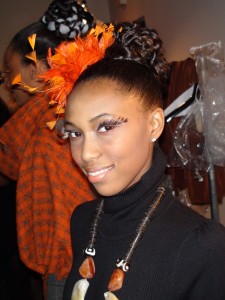 What a fabulous opportunity to go backstage to Project Runway Alum, Korto Momolu's Fall 2010 show.   The concept for the collection was all about going natural; clothes, jewelry, hats, and handbags as well as the hair and makeup.
It was such a delight to spend time with key hair stylists, Danny LeClair and Aubrey Loots from Studio DNA in West Hollywood, and watch them in action. They created a beautiful braid twisted into a bun piled high on the top of the head. Aubrey told me they used fabric to bring out the braiding texture and add depth to the hair. The key to a great hairstyle like this, is to use Sebastian products. Their top 3 must-have products of the night were the Microweb Fiber, which is a re-moldable texture with silky web fibers; then after braiding the hair, they used the Gel Forte to give a glistening style and shimmer-strong hold.  For the finishing touch, they used Shaper Fierce to provide a super hold for the look that won't budge!
The easiest way to take this look from the runway to real life, Aubrey recommends