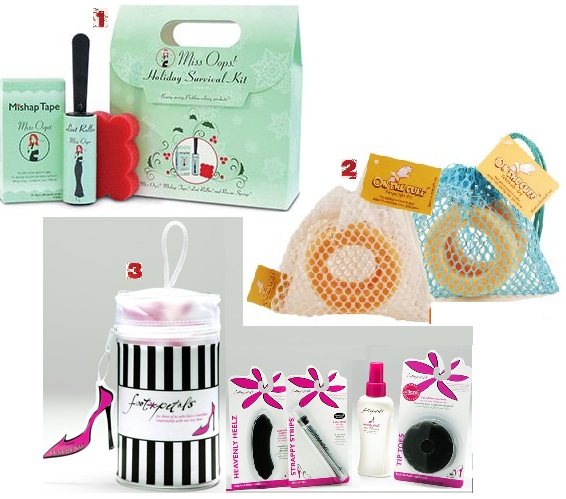 With the holidays around the corner, here are 3 of my favorite fun, but practical gag gifts that work for almost every girl, plus they come with a good laugh.
1. Miss Oops! Holiday Survival Kit
Miss Oops is a super fun brand with a wide array of cheeky but practical beauty and fashion saving, problem-solving products for all of those 'oopsie!' moments in your life.
The Holiday Survival Kit from Miss Oops is a fabulous set of must haves including:
Rescue Sponge

– perfect for getting out pesky stains including deodorant marks or fresh make-up powder off your clothes. No water needed.

Travel size lint roller

– you never know whose cat you'll meet at that holiday party, and now you don't have to worry about it (unless you're allergic).

Mishap Tape

– a set of 36 strips in two widths, this fabric friendly, hypoallergenic tape repairs hanging hems, gaping blouses, and keeps bra straps in place. So don't worry about a wardrobe malfunction (I'm looking at you Janet Jackson).
Packaged in a fun to go box, this gift is great for any girl on the go. Plus each product is nice and compact so they fit easily in your purse.
Suggested Retail Price: $18
For more information visit missoops.com
2. On the Cuff
I got On the Cuff in a gift bag and had no idea what it was. They look like little floats made of sponges! So after conducting a quick online investigation, it became clear that they are basically sponge bracelets (ahem, their terminology is 'cuff made of a unique stretch material') you wear, while rinsing your face, doing the dishes, or washing your car to prevent water from running down your arms.
While it seems like a completely hilarious invention, it's also genius and practical. I'm a major victim of water dripping down my sleeves so this made my day.
Price of 1 pair: $7.99
For more information visit onthecuff.net
3. Foot Petals Luxury Kit

This gift by Foot Petals is perfect for the shoe maven in your life; packed with an assortment of foot cushions and freshness spray, this set will help keep the comfort in and the blisters at bay so you can dance the night away this season.
The Luxury Kit includes (products also sold separately):
Heavenly Heelz

– A multi-functional foot cushion that can be used to prevent your heels from slipping out of your shoes

Strappy Stripes

–

No more sling back straps digging into the backs of your ankles! Help is here with this preventative adhesive cushion.

Tip Toe

– the cushion that helps

prevents your foot from sliding forward.

This is especially perfect for those high-heeled shoes, since it's never particularly attractive (or comfortable) to have your foot scrunched in the front with visible room in the back of your shoe.

Sweaty Pedi

– A perfect spray to keep your feet dry and fresh. The name may not be so attractive, and the vanilla smell is a little overwhelming (although it does fade shortly after contact), I'm willing to overlook these shortcomings, considering this product

delivers

.

I've sprayed it on my feet before going to the gym and before going out for the evening, and hours later, my feet stayed dry and in fact, were rather soft.
Suggested Retail Price: $39.95
For more information (and a variety of alternate great holiday foot sets and products), visit footpetals.com