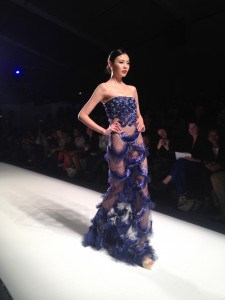 Farah Angsana brought the glam and sophistication of gala worthy, red-carpet gowns for her Fall 2012 fashion show. I got moved up to front row, which is always an amazing experience although especially appreciated for Farah since I got to see every detail and bounce in the fabric as the models flowed down the runway. Plus it makes for way better pictures!
This year, I like how Farah incorporated both short and long versions of many of the dresses she created –It just makes it more wearable for a lot of us that are lacking occasions worthy of long gown attire. The most moving part of the collection was the reaction the audience took to the finale dress. The gasps enough made it newsworthy as the model whisked down the runway in this strapless electric purple number that despite showing a decent amount of skin was so absolutely unique and elegant.
Enjoy the collection for yourself, I couldn't resist the urge to film it and share it with all of you!
http://www.youtube.com/watch?v=3mjXk7jeDSE&list=UU9BX-x1D-YtJhGoX2vY1TVQ&index=1&feature=plcp
Scroll through our picture gallery to see more images from the show: