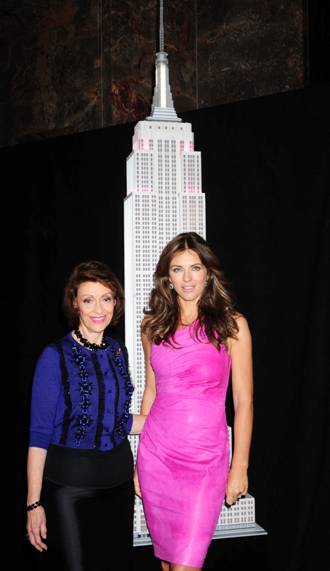 Tonight the Empire State Building will shine pink and white in memory of the late Evelyn H. Lauder and her courageous work raising awareness in the fight against breast cancer.
"The Empire State Building shines our tower lights in pink tonight and until 6 am Tuesday morning in memory of Evelyn H. Lauder," says Anthony E. Malkin of Malkin Holdings, "a loving wife, mother, and grandmother and a woman who has improved the lives of millions with her advocacy and inspiration in the fight against breast cancer."
In 1993, Mrs. Evelyn H. Lauder founded The Breast Cancer Research Foundation (BCRF).  Since that time the BCRF has raised over $350 million for research. In 2000, The Estée Lauder Companies' Breast Cancer Awareness Campaign began its Global Landmark Illumination Initiative whereby world-famous landmarks around the globe, including the Empire State Building, are illuminated in glowing pink lights during Breast Cancer Awareness Month in October to focus attention and spread awareness about breast cancer, and the message that early detection saves lives.
For more information on the Breast Cancer Research Foundation, visit http://www.bcrfcure.org.