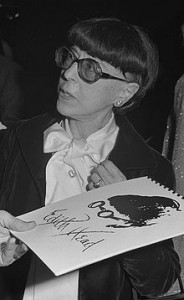 The Museum of Fine Arts in Boston is now showing the films which feature the work of legendary costume designer Edith Head.  The film series includes To Catch a Thief, Vertigo, Sunset Boulevard, and A Place in the Sun.  Showings from Dec. 23 – Jan. 3 [below excerpt from mfa.org].
The Costumes of Edith Head, 1941-1958
Edith Head (1897-1981), one of Hollywood's most influential costume designers, worked on more than 400 films, but her work with Paramount Studios was the most illustrious. This series celebrates the storyboards and sketches she brought to life to create some of Hollywood's most memorable moments.
For more information visit mfa.org