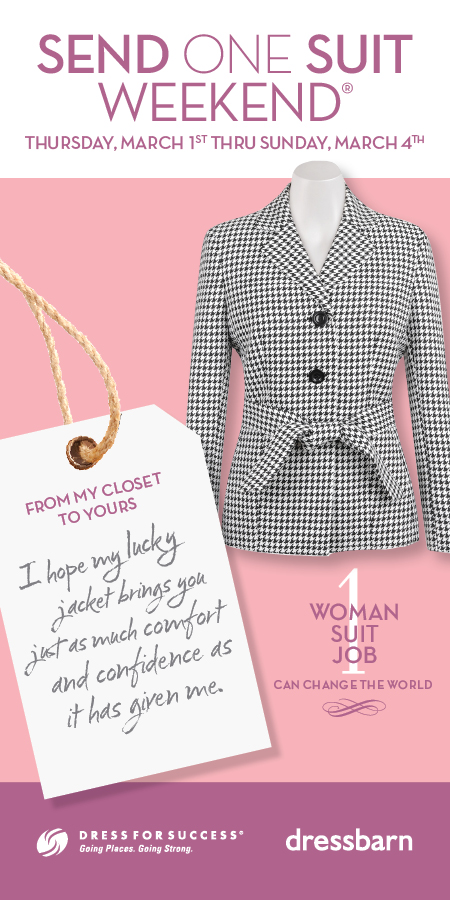 For the past week, I've been raiding my closet and putting everything I don't wear into boxes and downsizing like a mad women. The only cure for my 'maybe-I'll-wear-this-someday' pack rat condition is knowing that someone else can appreciate (and actually wear) the item more than me.  Two big boxes and a suitcase later, I've decided to donate to them to non-profits that focus on helping disadvantaged women regain economic independence by providing them with business attire and career skills. Two great organizations that do so are Dress for Success (which is international) and Bottomless Closet (which is NYC based).
And amidst all my organizing, one of my blogger friends sent me this info! Women's apparel retailer, Dressbarn, is hosting a suit drive this weekend in benefit of Dress For Success.
What: S.O.S.-Send One Suit-Weekend.
7.6% of women today remain unemployed, with many of them lacking the most basic necessity: a job interview suit.  You can make a difference by donating to the March. 1-4 national 'Send One Suit' event conducted by to Dressbarn.
When: March 1st – 4th, during regular operation store hours.
Where: All of the 825 Dressbarn stores. A complete list of stores can be found at www.dressbarn.com.
As a thank you, Dressbarn will offer donors an additional 15% total purchase savings for their generosity.
I should also note for all you beauty bloggers and brands that read my blog, the other thing I really love about Dress for Success is they accept unopened products — both personal and corporate donations. And for someone like me that gets more gift bags of products that are the wrong skintone or type then I know what to do with, it's wonderful way to donate them.