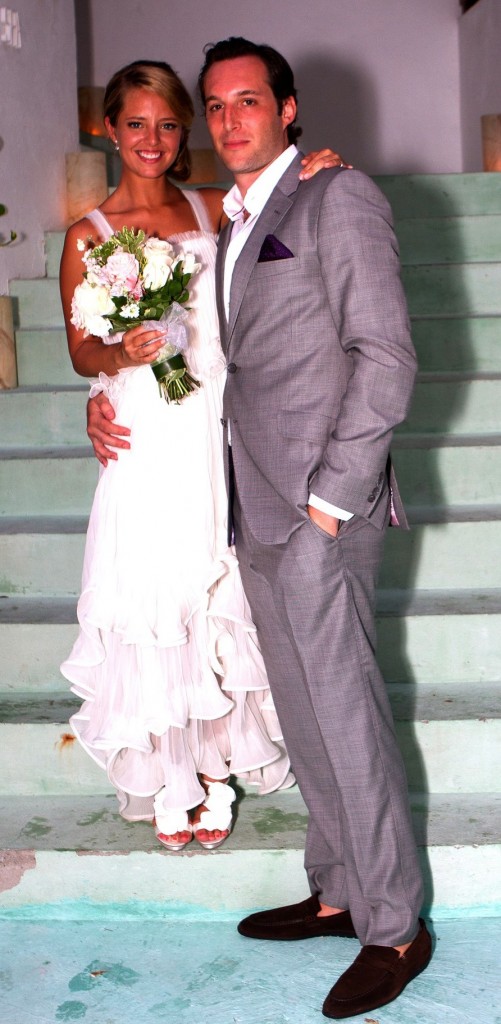 Okay future weddings I will attend, the bar has been set high! Congratulations to Bryan Yates and Erika Mercado, in what could be the most amazing, beautiful, fun, wedding I may ever witness (until I have my own). The bride planned the perfect destination wedding single handed! Although that should be no shock to any of her friends and family, she professionally produces events and photo shoots for a living.
Watching Erika and being apart of the process (even if it was just hearing about it during our regular lunches), and the big day made me believe in magic. It was refreshing to see someone enjoy all the parts of her wedding and not turn into a bridezilla or give into the stress and politics so many do. Instead, it was a everything it should be. A special day when two people unite in holy matrimony in front of their dearest friends and family.
And seriously, how beautiful does she look?  Drool over the details…
Destination: Acapulco, Mexico
Erika's Look:
Hair and Make up: Diego Americo
Lips: Mark. Glow Baby Glow Lip Gloss
Fragrance: Un Jardin Sur Le Nil
Dress: Chloe
Shoes: Badgley Mischka
Venue (ceremony and reception): Hotel Boca Chica
Decor: Caty Gomez
Food: Kesiku (former Bond St NYC chef)
Bryan's Suit (Groom): Paul Smith
Bridesmaid dresses: Donna Morgan Belted Chiffon Dress
How did she amp up for her big day? Erika cut out cheese, regimented herself at David Barton Gym and drank a lot of Kusmi "Detox" Tea (ahem, I got her hooked on it!).
Like a true Mexicana wedding, we started the night refreshed, then the lovebirds got hitched and the tequila came out, the jackets came off and next thing I know my date is licking my face. Chalk it up to puppy love.