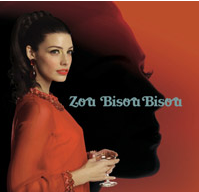 Last night, like many of you, I tuned in for the highly anticipated 2-hour premiere of AMC's "Mad Men". Now in it's 5th season, I think we can all agree the most unexpected moment (or for all you men out there, highlight) of the episode was Jessica Pare's sultry performance of '60s french pop hit 'Zou Bisou Bisou'.
Loved her rendition? Well good, because it's available for download. Lionsgate Television Music, the music arm of the studio's TV division, is releasing Pare's recording of 'Zou Bisou Bisou' (which loosely translates to "Oh you, Kiss, Kiss").  The single was released digitally at midnight on iTunes, with special limited edition vinyl to be sold through the AMC store.
"Zou Bisou Bisou" was originally recorded in 1961 by British actress and pop star Gillian Hills. This new single of "Zou Bisou Bisou" is produced by Mad Men creator-executive producer Matthew Weiner, Lionsgate TV Music Head Russell Ziecker, Mad Men composer David Carbonara and recording engineer James T. Hill.