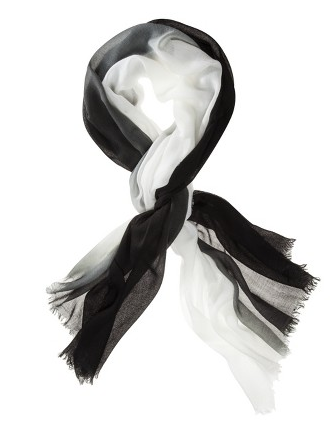 Whether you call it an ombre, gradation or the more technical term when referring to clothing: dip dye, this is one trend that's hot for spring. Basically, it's the new color blocking. And from my hair (I'm still in the ombre phase) to my clothes and accessories, this is one fun accent to update your wardrobe with.
I recently stopped by Target (last call for the Prabal Gurung collaboration!), and saw a variety of dip dye items ranging from tops/sweaters (even workout tops!), shorts, bags, and scarves to beach hats.
Instantly gravitating to the Mossimo Dip-Dye Scarf ($14.99) — this is the perfect transition item from winter to spring (and can easily be carried out through fall). It gradates from white to a grayish/green tone to black (which basically describes my color scheme as of late). So until I break out the summer brights, the styling possibilities are endless. Plus the beauty of a dip dye scarf is the look changes based on how you wrap it.
{Ombre hair, ombre scarf}