Post by Heather Wilson
Backstage at the Mandy Coon Fall 2010 show during New York Fashion Week, Dimitrios Tsioumas, lead stylist from Mizu New York, and his team created the fabulous looks featured in the show.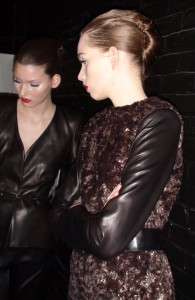 Dimitrios Tsioumas worked with Mandy Coon to develop a sleek, low, defined French twist for the models using 3 Goldwell products; 'Hot Darling', 'Big Finish', and 'Supervisor'.  Starting with 'Hot Darling', a lightweight thermal protectant, is used to prep the hair while blow-drying it out.  This is followed by 'Big Finish', a volume hairspray that sets the hair.  Tsioumas then finished the look with 'Supervisor,' a pomade that omits flyaway, and leaves a beautiful matte finish. The sophisticated look of the hair was perfectly complimented with a very clean, bold, red lip by M.A.C.
All of this was to help show off the beautiful flowing fashions by Mandy Coon. There was a soft drape, to a fitted gown, flowing hoods, and scrunched layers. The tulip cut to the skirts was very nicely hung, and a great fitted jacket made with military inspired Capulet shoulders.