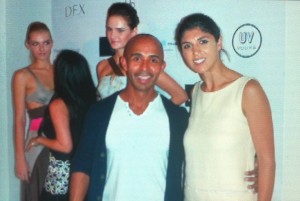 Raul Penaranda debuted his premiere collection at the Metropolitan Pavilion last week during NY Fashion Week. The inspiration for his Spring/Summer 2011 show was 'Uptown meets Williamsburg' mixing together refined dresses with vibrant colors and metallics.
Even before the models took the stage, I was very taken aback by the man behind his namesake label. In his program to the audience he wrote a letter saying:
"I would like to thank you for attending the launch of my first collection, a day where my dreams become a reality. A journey full of challenges and lessons, with no regrets. As a token of my gratitude, I would like to share a piece of my collection with you. [he inserted a bottle with a piece of fabric from the collection in all the gift bags] This bottle will serve as a reminder that nothing is impossible and miracles take a little bit longer. Dream, Vision, Reality".
What a lovely (and inspirational) gift! That journey and joy radiated through the runway by both the clothing and the models, and ultimately the grand applause by the audience when Penaranda took the stage.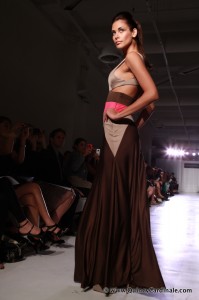 Pretty Connected caught up with the Raul Penaranda to a get the inside scoop on the collection:
Why Uptown Meets Williamsburg?
"Uptown meets Williamsburg is about two opposite elements that collide and create an emotion, it's about mixing unexpected materials to create an element of surprise and interest. It's about vulnerability is about imperfect beauty."
What's next for you?
"Working on my Fall collection and continue working hard to improve/evolve the product and reinforce the brand identity 'DREAMS-VISION-REALITY'. As I mentioned in the past for me there is nothing impossible and miracles take a little bit longer. When fear is out of the equation there is nothing but success".
Get the Look! Check out the