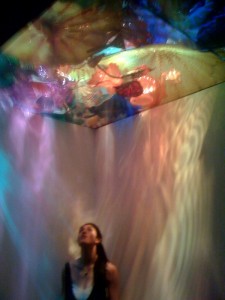 This past weekend I was in Boston and headed to the Chihuly 'Through the Looking Glass' exhibit at the Museum of Fine Arts (MFA). If you're visiting the area (or are local), it's a must see! Especially if you're a fan of blown glass. Based in Seattle with his team of glassblowers, Dale Chihuly revolutionized the art.
The exhibit features several rooms of a variety of installations in different colors and styles. There was a glass blown ceiling in one of them which blew my mind! The way the colors reflected and the level of craftsmanship… so beautiful!
Then there we're also these purple glass beams parked in bark, which I wanted to take home with me. And a variety of glass chandeliers that were simply stunning. Then there were a few rooms which were filled with crazy shapes and colored glass that kind of remind me to of those balloon animals clowns make at kids birthday parties. But I have to say out of all this amazingness, my favorite was this series he did based on the shapes of weaving baskets.
And you know what else I love? That the MFA lets you take pictures! Hopefully you get to make the exhibit, but if not enjoy the pictures.