Each year, the Cosmetic Executive Women (CEW) Beauty Awards Product Demo showcases the latest beauty innovations. With almost 2,300 beauty insiders combing through 625 products from more than 300 brands, it's truly the place to discover new products and what's in vogue.
CEW has analyzed the product submissions for the 2013 Beauty Insiders' Choice awards to identify this year's hottest trends. Here's the roundup on what's trending this season: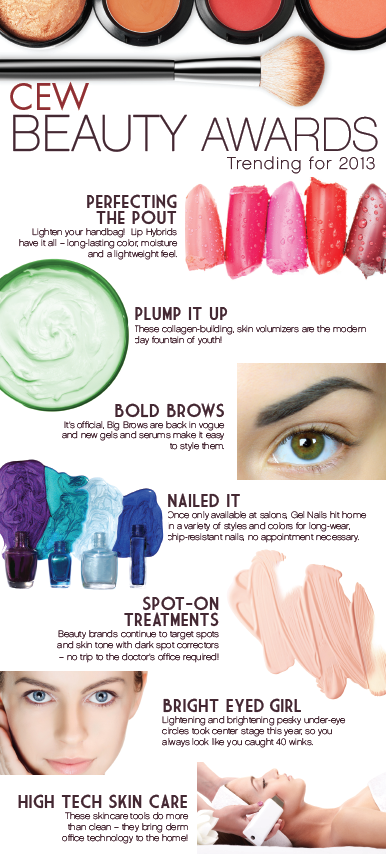 o   Lip Hybrids: Lip products that have it all – long-lasting color, moisture and a light-weight feel.
o   Skin Volumizers: These collagen-building formulas reduce the look of deep lines and fine wrinkles – they're like the fountain of youth in a jar.
o   Bold Brows: Fuller, bushier brows are back in vogue and new gels and serums make it easy to style them.
o   Gel Nails: Both mass and prestige brands now offer consumers a multitude of styles and colors to achieve long-wear, chip-resistant nail color at home.
o   Spot On Treatments: Brands have been creating a myriad of products that immediately target dark spots and prevent future spots from developing.
o   Bright Eyes: Serums that lighten and brighten sensitive skin under the eyes took center stage this year, with unique applicators that cool skin on the spot.
o   High Tech Skin Care: Handheld tools offering powerful dermatologist technology at-home have emerged to provide a more youthful look.
To learn more about 2013 Beauty Award entries, visit CEW's Viewbook.