Last night, while The Man Repeller was uptown styling the Bloomingdale's 59th Street, Lexington Avenue windows and showcasing Tibi's newest collection (I need to go check that out!), I was downtown for the launch of the Misha Nicole store and APL restaurant pre-opening bash.
Misha Nicole took over a large retail space on Bowery and houses a well curated assortment of unique fashion pieces and accessories. To celebrate the opening the store is hosting a series of events (visit their website to part-take), including art exhibitions, trunk shows and charitable initiatives. Last night, they featured the work of painter MD Tokon. I was somewhat distracted over the amazing assortment on the racks to give the art on the walls their proper attention –although their vibrant hues really lit up the room.

I was all about the jewelry and these jackets! I know they don't scream spring, but I'm in need of good basics.
I then headed over to APL, the new LES restaurant that hasn't quite opened yet (bar opens tomorrow, full dinner menu begins on Tuesday), despite hosting a few teaser events.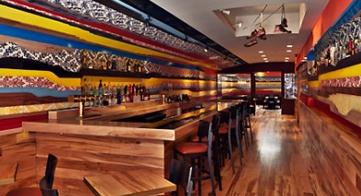 I was curious to check this space out, after reading all that Camille Becerra drama and all this talk of suspended monkey bars. While that was kinda cool (although better left as a surprise, it wasn't nearly as dramatic as I was imagining), I was all about the walls! They were all different colors and textured and lined with apples.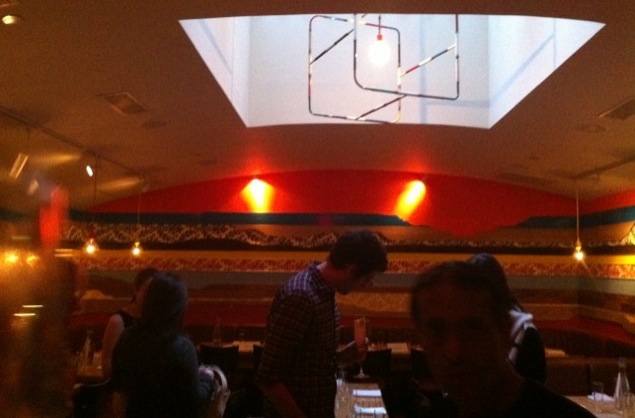 The bar hosts a long vertical bar and space which then opens into the main dining room –which is where the skylight has the infamous hanging monkey-bars.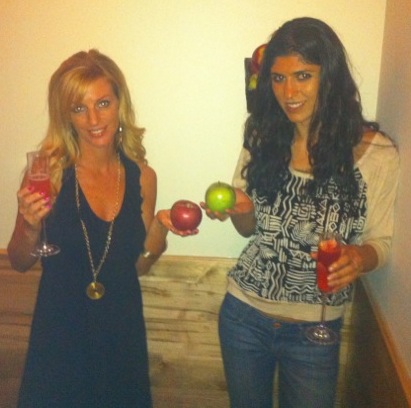 Not to get all Snooki on you, but I was all about the fried pickles.
APL 146 Orchard Street (Rivington Street); (212) 777-8600.