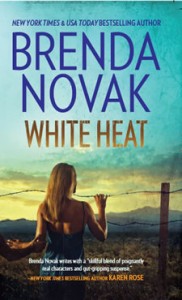 Okay Brenda Novak fans, the NY Times and USA Today Best-Selling Author is at again and turning up the heat with her latest novel, WHITE HEAT ($7.99). Launching on July 27th, WHITE HEAT is the first installment of her latest trilogy, which will be proceeded by BODY HEAT and KILLER HEAT; slated to launch later this summer.
In celebration of her most recent romance/suspense novel, Novak has partnered Three Custom Color Specialists to create White Heat Lip Gloss ($21.50). Don't miss out! The first 50 online customers to purchase the gloss on www.threecustom.com starting July 27th will receive a free autographed copy of WHITE HEAT.
WHITE HEAT LIP GLOSS – A versatile, sheer pink gloss, with light shimmer. Hydrating and non-sticky the gloss is great alone or over your favorite lip shade.  Packaged in a swing-out lip gloss pot, the product can be applied with your finger or lip brush.
As for me, I'm going to pour a glass of wine and read all about Nate Ferrentino, the private security contractor assigned to infiltrate a mysterious cult that's moved into Paradise, Arizona. Only problem is Rachel Jessop, Nate's colleague and long time crush has also assigned to the case –as his wife. So much for keeping his distance (and keeping it