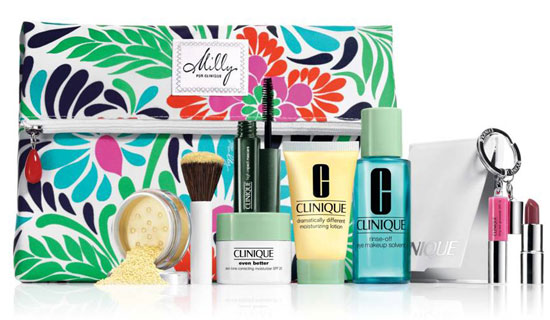 Spring has arrived early this year for all you Milly and Clinique fans!  In their latest collaboration the 'Milly for Clinique Cosmetics Bag', you'll receive a custom designed fold over bag (that can double as a clutch) by Milly designer and founder Michelle Smith.  It comes filled with Clinique's best of spring beauty items, a fantastic deal with any $24.50 or more Clinique purchase (a $75 value!).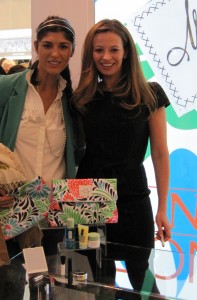 In addition to the Milly for Clinique Cosmetic Bag, this set includes the following Clinique travel size products:
Redness Solutions Instant Relief Mineral Powder and Brush
High Impact Mascara in Black
Even Better Skin Tone Correcting Moisturizer SPF 20
Dramatically Different Moisturizing Lotion
Rinse-Off Eye Makeup Solvent
Clinique Foldover Mirror
Long Last Lipstick in A Different Grape
Long Last Glosswear SPF 15 in Clearly Pink
*The two lip treats come on a Clinique key chain
Perfect for travel or a night on the town.  An exciting clutch to add to my collection — I'm a nut for details and the zipper has this amazing orange bead on it.  Exclusive to Bloomingdale's, get it while you can . . .  it's only available while supplies last!