Pretty Connected contributor, Elizabeth Borenstein finds a new nail polish line to add to her collection…
Nail polish changed my life the day it stopped me from biting my nails. This obsession with painted nails took on a whole new level when I was treated to a nail art manicure by the supremely talented Miss Pop of www.misspopnail.tumblr.com (check out her site and prepare to be amazed!).
As soon as I received lllamasqua nail varnishes in shades Faux Pas (blue violet) and Kink (bottle green) I promptly ran over to visit Miss Pop and get the skinny on what she thought about the new formula, which promises a "unique rubbery finish".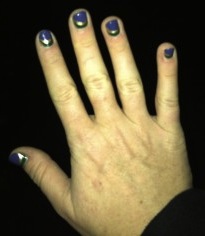 After sampling the nail varnish and working her artistic magic Miss Pop gave her seal of approval,
"Great brush, polish applies evenly, and the color is rich and unique-you only really need one coat (although they recommend two). The finish is not matte or shiny it falls somewhere in the middle, it's like nothing I have seen before."
I agree. I love the shades (I'm so into muted jewel-tones at the moment) and the finish, and after wearing the polish for a few days I noticed my nails felt stronger and grew faster than with regular polish.
Illamasqua Nail Varnish ($14) is available exclusively at Sephora
DISCLAIMER: A complimentary sample of Illamasqua was given to Pretty Connected for post consideration. Pretty Connected was under no obligation to write this review.