It was raining mommies and kids at the Baby Buggy Bedtime Bash hosted (and founded) by Jessica Seinfeld at the Victorian Gardens in Central Park. The space, which many know as the Wollman ice-skating rink in the winter, is transformed during these warm months into a kids amusement part; and was the perfect place to celebrate Baby Buggy's 10th anniversary.
For those of you not familiar Baby Buggy, it's a non-profit it works to provide families in need with essential equipment, clothing, products, and educational tools and services for their children. So if you're looking for ways to downsize the excess possessions your kids have outgrown, definitely check them out, it's such a great organization.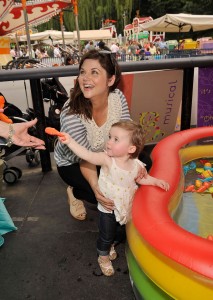 Celebrities (and their kids) got on board for the family-fun party filled with carnival rides, arts and crafts, fake tattoos and my personal favorite, jumbo go-fishing! Remember that game with the magnet and the plastic fish and you'd race to see who could get the most? It was like that only the fish were jumbo and were floating in a kiddie pool.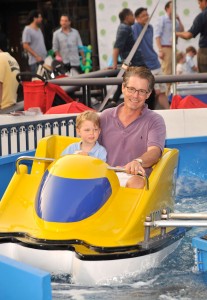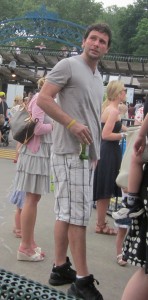 Aveeno was supporting the event and invited me to come hang out (part of the perks of being an Aveeno Ambassador!).  I'm not going to lie, the scene definitely felt like the set of a Mother's Day photo shoot for Social Life Magazine. The highlight for me was seeing Jeremy Sisto (aka Elton from the movie Clueless) with his daughter and just fighting the urge to yell 'Elton', the whole time. When did he grow up? He's supposed to still be in High School! Oh man, I must have watched Clueless 1000 times as a teenager, and seeing Elton all grown up and as a dad –I mean way to tarnish that totally scum-bag image. Pfff as-if!
I'm also pretty sure I saw Alison Brod running around in what I can only describe as pink Barbie heals. The shoes were amazing! I'd say I tried to take a picture of them but I don't think the woman sat still the entire event —then again that's probably why she's such a PR rock star.