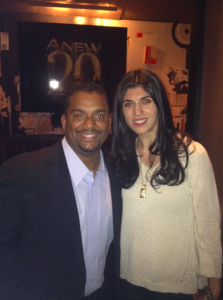 Who knew it took going back to the 90's to attend easily the hippest party of 2012 yet! Okay provided, it's barely February so that doesn't say as much as it should, but Avon spared no detail in their recent 1992 themed party in celebration of the 20th birthday of their prestige anti-aging line, ANEW. Hosted by supermodel and ANEW spokesperson, Paulina Porizkova who announced to the audience, "I have nothing in this face for except what God gave me and Avon put on it". Quite an accolade to the brand considering at 46, she's flawless..
Avon packed the Thom Bar with 90's memorabilia including slap bracelets, Fun-Dip, Warheads, fanny-packs, a photo booth, and tunes that made you want to jump-jump (no literally they played ­­­Kris Kros), along with other hits from the decade.  And speaking of the 90's, just after Paulina gave a speech to the audience and the brand introduced ANEW's two latest products; Genics Eye Treatment and Clinical Resurfacing Expert; they announced a surprise guest… On came Tome Jones' It's not unusual and out came Alonso Ribeiro (aka Carlton Banks from the Fresh Prince of Bel-Air!) doing his iconic Carlton dance.
It was perfect. And naturally, I couldn't pass up the opportunity for a photo-opp with him.
Thank you for a very fun evening Avon!