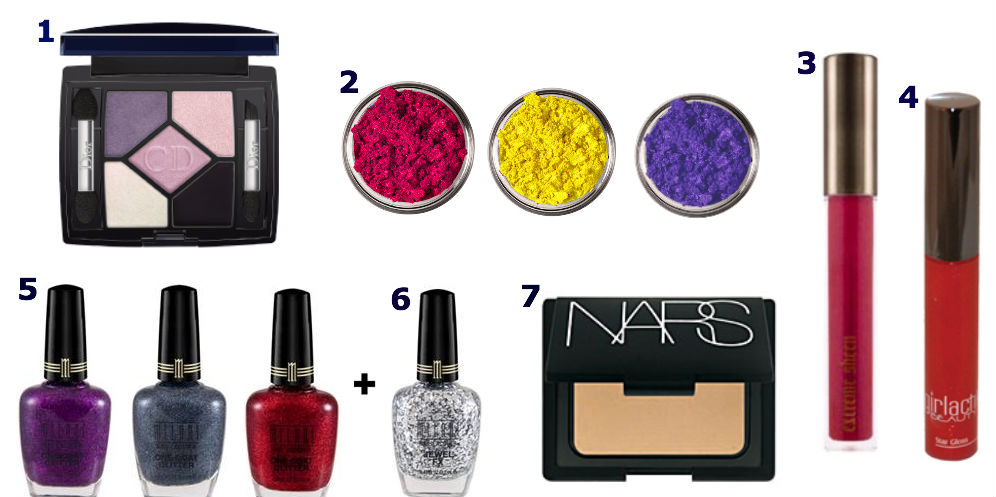 Who doesn't want to shine this New Years Eve? Here are some of my favorite makeup choices to help us shimmer all night long and into the new year.
1. Christian Dior 5 Couleurs Designer Eyeshadow $58 -Featured in shade Amber Design.
2. Obsessive Compulsive Cosmetics Colour Concentrates $11.50 -Featured in shades Cherry Bomb, Pollencount, and Static.
3. Hourglass Cosmetics Extreme Sheen High Shine Lip Gloss $28 -Featured in shade Primal.
4. Girlactik Beauty Star Gloss $16 – Featured in shade Ooh La La Red.
5. Milani One Coat Glitter Nail Lacquer $4.99 – Featured in shades Purple Gleam, Silver Dazzle and Red Sparkle.
6. Milani Jewel FX Nail Lacquer $4.99 – Featured in Silver. Clear nail polish with large silver flakes inside. Add this as a topcoat to your existing nail color to add some silver sparkle.
7. NARS Cosmetics Sparking Pressed Powder $31 – Featured in shade Gold Rush.
While Milani will have your nails sparkling all night (I love the glittery surface texture it has), I should note that it's very difficult to get off with nail polish remover. I really had to scrub like crazy to get this color off. Pictured above, I'm